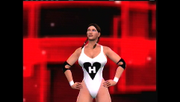 Name: June Butler
Born: July 19, 1950
Nickname: Canada's Daughter
Reside:Springfield, IL
June is a rookie wrestler that debut on GLW episode 1. June was in the Candian olypus and won several metal for canada. As a result she was give the award of Canada Daughter in Montreal by the royal family. June was the first Woment champion on GLW but lost the title on Episode 1 to Kelly Martin.
Second Women's title
Edit
In GLW Episode 3 June Butler would regain the Women's title for a second time.June would lose the title to Kelly Martin in GLW episode 4.