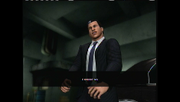 Name: Mark Fox
Nickname: The Entertainer
Reside: Washington DC
Finisher: The Entertainer
Mark Fox is the General Manager of Global Wrestling. Fox started the company with the help of World of Wrestling after a sucessful career in the stock market. Fox's vision was to bring some of the greatest wrestler from across the global into one ring.
Manager of the Year award
Edit
in Episode 4 Fox was awarded Manager of the year by President Bradley Regal.
Active Wrestlers/ Fired as Manager
Edit
In GWL WCW 7 David Kidman announced that Fox was fired as Manager of GWL and that he would control wrestling operations for WCW, AWA and GWL. Fox was also put in a match which he lost to Tiger Kid.