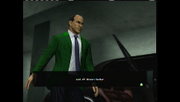 Name: Shawn Walker
Nickname:
Reside: Detroit, MI
Shawn Walker is a well known wrestling commentator for GLW. Before working for GLW Walker was a history teacher at the Unversity of Michigan.  
Join the Board of Directors
Edit
In GWL episode 5 Walker was assigned as the VP of Operations by WOW President Bradley Regal.