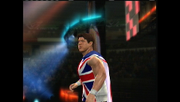 Name:Tony St. Clair
Born: March 1, 1948
Nickname: The Englishman
Reside: Blackport, England
Tony is a Englsih wrestler that that wrestle in the UK as a rookie before his debut in GLW.
Lightweight Champion
Edit
In GLW Episode 3 St. Clair won the title from KC Madison. In Episode 4 St. Clair lose the title to Chris Wilson.
Match of the year award
Edit
St. Clair was awarded the Match of the year for his match aganist Chris Wilson in GWL episode 4.
Eurpean title
Edit
In WCW ep 1 St. Clair won the Eurpeon title from Kelvin Dalton. The title was decontinued